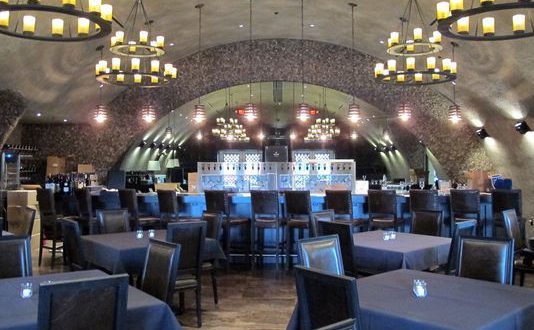 2 eateries recently opened and 2 more are coming this fall to the retail center on the northwest corner of Airport-Pulling and Vanderbilt Beach roads in North Naples.
The Cave

The Cave is the long-awaited addition to the newly relocated and expanded Naples Wine Collection in the Shoppes at Vanderbilt.
Initially hoping to debut this spring, The Cave bistro and wine bar is targeted to open this fall connected to the wine specialty store in previously undeveloped spaces at 2343 Vanderbilt Beach Road.
"It's been very, very advantageous to be on Vanderbilt," said Jim Dixon, who co-owns the businesses with his wife, Laura. "We think the location couldn't be better. When they gave us this opportunity we said, 'Let's go for it.' "
The floor-to-ceiling personal wine lockers that surround The Cave's main entrance are reachable by a rolling library ladder.
"It's going to be quite a unique venue. It's going to be extraordinaire," Jim Dixon promised in an earlier interview.
Menu details for the local venue have yet to be unveiled except for the expectation of "over the top" tapas and small plates for lunch, dinner and late night. An outdoor patio will have seating under an awning to enjoy live entertainment.
Mojo Thai & Sushi Bar

Mojo Thai & Sushi Bar is an Asian eatery being built inside a corner space at Shoppes at Vanderbilt where the Let's Yo! frozen yogurt franchise operated from May 2012 to September 2016.
Mojo Thai & Sushi Bar Restaurant is expected to open in mid-October in unit 186 at 2355 Vanderbilt Beach Road. The new local business will serve lunch and dinner, as well as beer, wine and sake.
Owners Tangmo and Joe Sunthi are natives of Thailand, but they met only a few years ago at the Pine Ridge Road location of Komoon Thai Sushi & Ceviche, where they both worked. The name of the Sunthis' first restaurant was created by blending their nicknames — Mo and Jo.
Joe Sunthi was the sushi chef at Komoon, and he still creates his Japanese edible art at Thai Udon Cafe in downtown Naples. The Sunthis plan to kick it up a notch with the hiring of mysterious master chef "M" as the head chef at Mojo's sushi bar, which will create the majority of the restaurant's offerings.
"It's going to be 60 percent Japanese, 40 percent Thai," Mo Sunthi said.
Mo Sunthi promises that the taste of Mojo's Thai dishes will be more like her homeland creations because of the use of authentic ingredients such as chiles and fresh herbs. For instance, for the popular pad Thai, Sunthi said they will replace the Anglicized ketchup with tamarind sauce, the original ingredient used to make the stir-fried rice noodle dish sour.
"We are going to do Thai authentic," she said. "We try to make it really close to Thai authentic."
In addition to Mojo's food, expect happy hour prices and specials 3 to 6 p.m. weekdays, Sunthi said.
This Article was provided by: http://www.naplesnews.com/story/news/columnists/tim-aten-in-the-know/2017/08/30/know-2-restaurants-coming-fall-shoppes-vanderbilt/614788001/